Stacking in stages...
Created a few minutes ago.
The stack is composed of four images, ACR processed.
The images are loaded using File → Script → Load into stack
The 'align' option is not checked
because this was shot handheld
► I checked the images in order to have them in sharpness order.
► I created pairs, each was aligned then blended. (Red)
► The resulting blended images were then aligned and blended. (Orange)
► The final blended image was transformed into a 'Smart object' Then level was applied (Ctrl-L) followed by ACR. (Green)
This was done in order to pull the details in the white areas.
The result can be seen in the
close-up forum
.
Original clump of flower posted in the
gallery
. 
Screen capture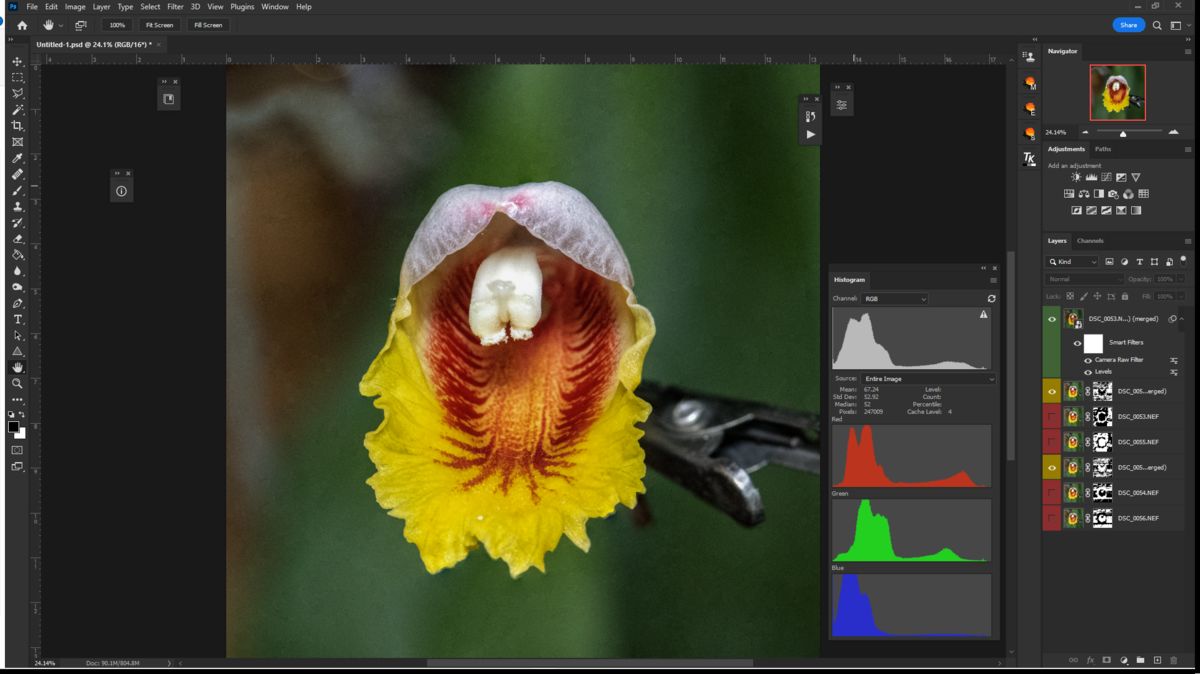 (
Download
)
In order to be exploited, the ghosting created mainly in lower capture need to be corrected.

I am not inclined to do so at the moment.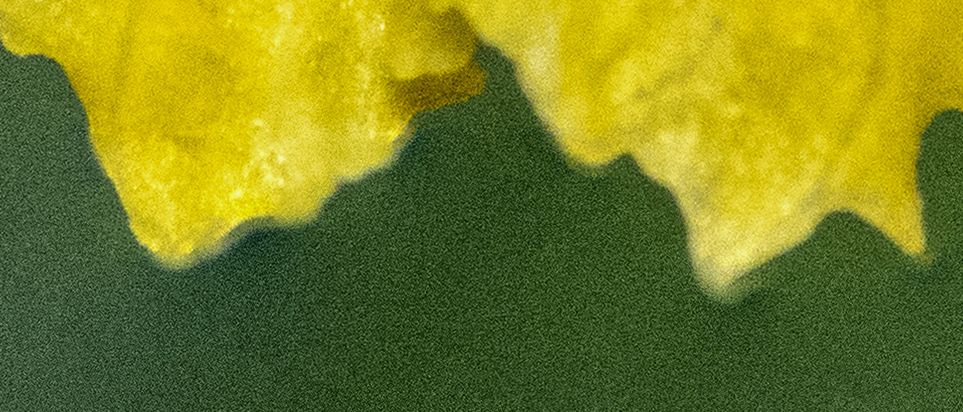 (
Download
)
Final image ready to be printed.

Projected size 2'x3'.

► Removed bleeding *
► Removed distracting metal claw
► Darkened the background using a selective layer
► Cropped from square to 2x3 ration
► Resized to 2'x3'
► Made a background selection (mask)
► Used Gaussian filter on selection
► Darkened the background one more time using a level layer.

-------------
* Bleeding is removed as follows
► Created a selection around the bottom horizontal bleeding part
► Modify the selection using the down arrow so that it is away from the original
► Modified the selection, to feather it
► Copy and pasted the selection content onto a new layer
► Moved the selection back up so that it matches the original border
► Using the layer 'blend if' to control where the layer is applied
► Using the eraser to remove most of the patch (avoids repeating pattern)

The same is done on the horizontal bleeding on the right side, arrows then are used to the right then to the left.

This method appears too complex at first. It beats content aware and other corrective tools.

Whatever artifacts left on the dark side are removed when the image is enlarged, when the background is blurred.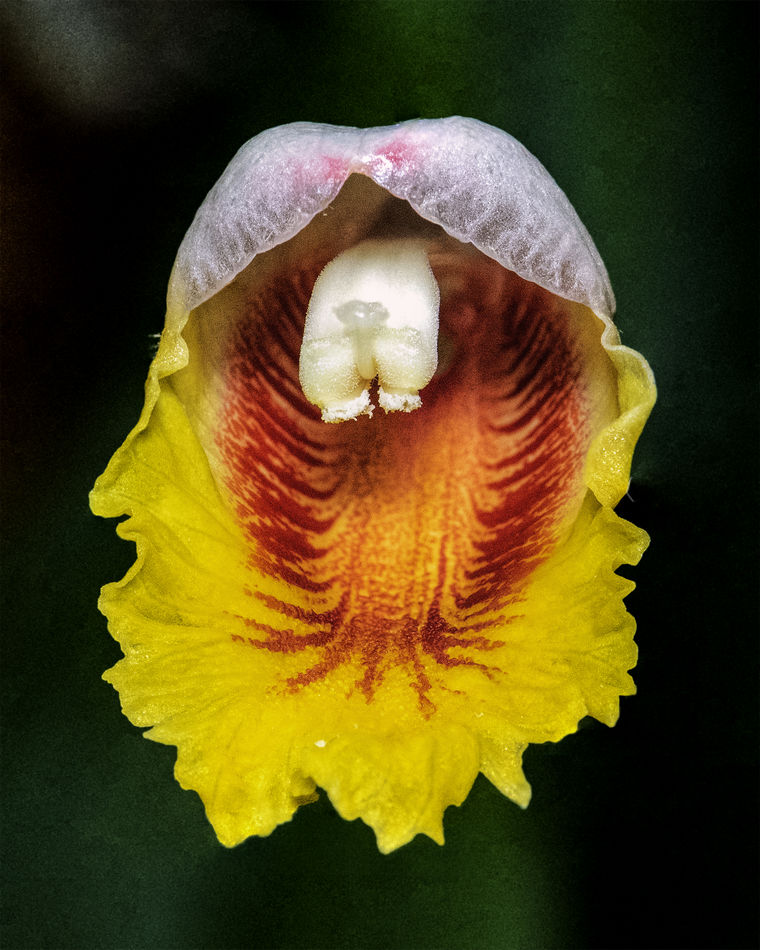 While this looked good I was not satisfied. Now it seems to be better.

I set a black point using the eye dropper and a level layer.

The original numbers were R 1, G 2, B 0. Now they are 0,0,0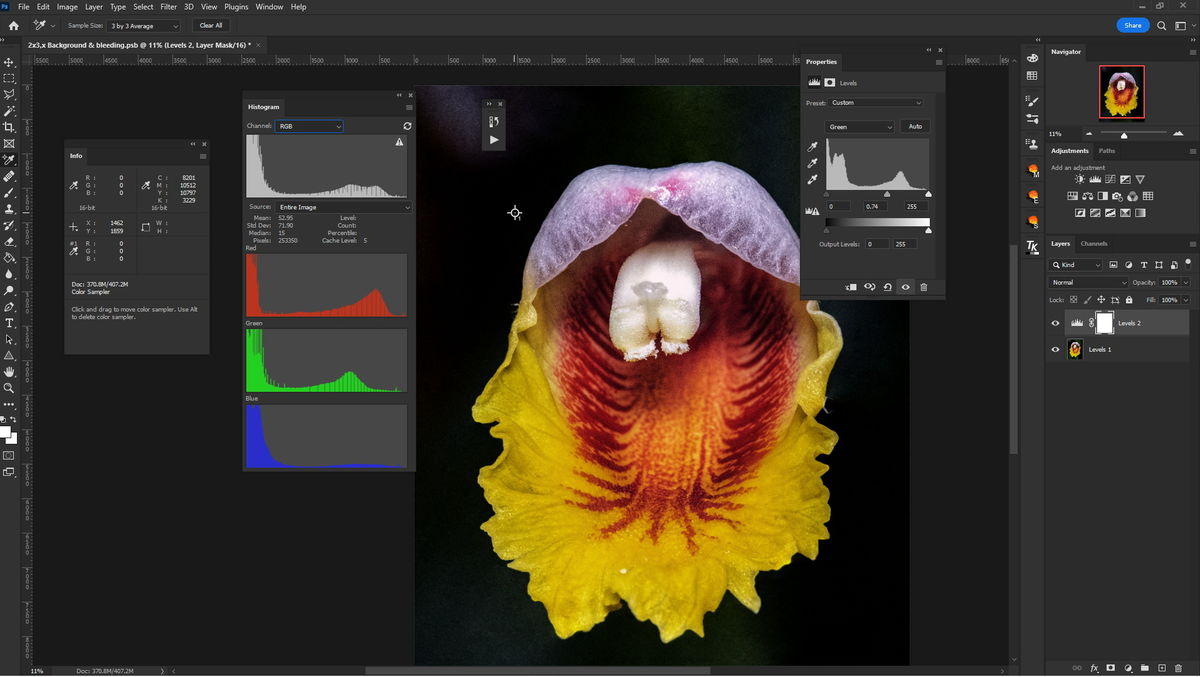 (
Download
)
If you want to reply, then
register here
. Registration is free and your account is created instantly, so you can post right away.