Nothing to crow about. ;-)
OMG! That was F'n HILARIOUS! ..and Brilliant!
8:32 This morning. I knew that I just had to "share' this! So I clicked the share button, innocently. Like a cross to a vampire, I was presented with an option to send it via

f a c e b o o k !!!!! I would rather cast myself into a sea of Black Widow Spiders or even worse; sit in on the "Inquiry" of the "russian collusion hearings" for 1 minute (OMG!)

Horror of all horrors! So, I am relieved to see the option for tweeting it, using my account (#SpeedyGraphic) knowing that I can truly impress my brothers and sisters with

my PC-ness (forgive me) when a admonition appears and it says; "Your message is understood but it was inspected, rejected and denied (injected)!!" WITWCT?*

What a way to start my day. And this being the second kick to my libertarian groin, as prior to this, I heard on the news that PETA is imploring (strong-arming) the

myriad of over-bearing, oppressive, ubiquitous, dialectical materialistic (ok. just pick one) so-called governments to tax meat! But, it's what's for dinner!!! Once again...

WITWCT?* (There it is again! (again!) I fully expect this (watch-a-ma-call-it? ;-) ) to go viral and become bigger than OMG, LMAO, and MBBFE!) Alright! I'll STFU. I hope

you can have a sparkling day. Oh. One more thing: *What Is The World Coming To?
My 1966 Triumph - "Bud Ekins' Special" - Bonneville would LOVE this road! (So would I.)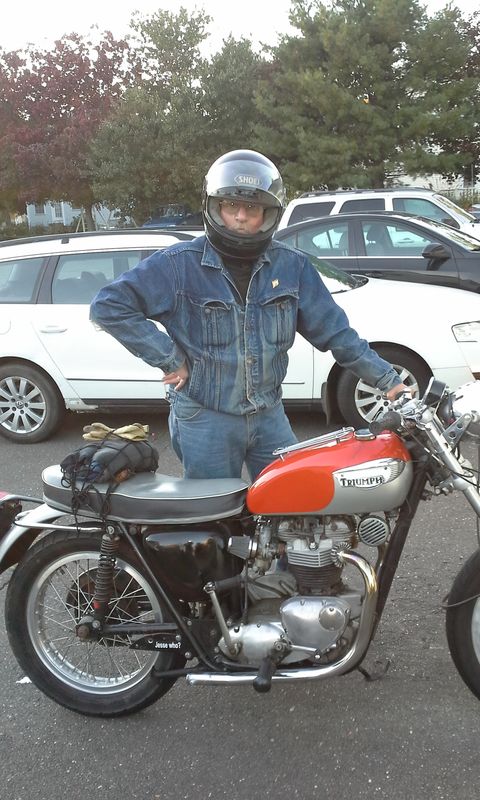 I know, I know!
I just can't help myself. HA!
Too funny!
I have an analog brain for copy and paste. Can someone help me out here so I can pass this on?????
SpeedyGraphic shutterbuge5@gmail.com Thanks