Bag of digital cards, all were used in Canon cameras:
CFExpress type B (1): SanDisk Extreme Pro 64 GB
Compact Flash (4): SanDisk Extreme IV 8.0 GB, SanDisk Extreme III 8 GB; Lexar Professional 600x 32 GB, Lexar Professional 1000x 64 GB
SD cards (5): Lexar Professional SDXC 128 GB; SanDisk Extreme Pro 32 GB; Canon SD 16 MB; PNY SDHC 4 GB; no name Secure Digital Card 128 MB
Miscellaneous (3): Lexar PC Card Adapter; Delkin Devices eFilm Express Card adapter; SanDisk MicroMate SDHC to USB adapter; plus 5 empty card cases
All are in working order so far as I know. All or nothing .... $90 and I will mail them to you in a padded envelope. PayPal okay.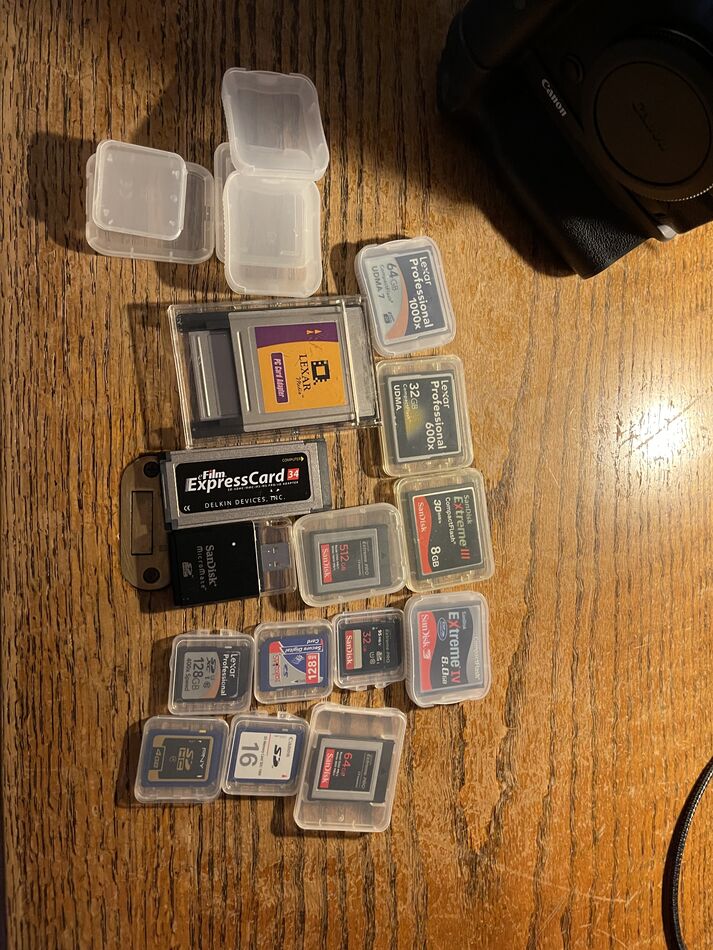 Bridges
Loc: Memphis, Charleston SC, now Nazareth PA
send them ny way if still available. Send me your PP address.
Your PayPal received and transferred to my bank. When bank confirms tomorrow, I'll put the envelope in the mail. If you send me your email address, I'll send you the USPS tracking number. Thanks!

oschmidt@att.net
Sunday, March 19, 2023
PayPal is transferred and bank agrees. The envelope is in the mail to you today, first class. Cheers!

USPS tracking number:
9500 1139 1046 3079 0832 90
If you want to reply, then
register here
. Registration is free and your account is created instantly, so you can post right away.