This topic is locked to prevent further replies.

GoofyNewfie
Loc: Kansas City
Most cameras have a minimum shutter duration for synching with standard flash or speedlight. For older 35-mm film cameras, it was as long as 1/60-sec. For DSLRs it is 1/200-sec or 1/250-sec, depending on camera manufacturer. The shutter in current DSLRs is comprised of two vertically-moving curtains, called a leading curtain and a trailing curtain. Basically, the lead curtain covers the sensor, with the trailing curtain above. When the shutter button is fully depressed, the lead curtain falls first, exposing the sensor to light focused by the lens. The trailing shutter then falls to end exposure. When the shutter duration is 1/200-sec (as example), the entire sensor is exposed. When the shutter duration is 1/500-sec (as example), the trailing curtain starts to fall before the lead curtain is fully open, forming a moving slit. When a speedlight fires, the trailing curtain blocks some of the light, casting a shadow onto the sensor.
In High Speed Sync (HSS) the speedlight sends out multiple pulses of light, essentially creating a continuous light for a brief period, just long enough to make your exposure. In this manner, the entire sensor is exposed through the moving slit. The major drawback to the longer light duration is a reduction of power. Exposure compensation is made by adjusting the flash exposure compensation (FEC) in TTL, moving the speedlight closer/farther away or adding speedlights.
Both camera AND speedlight must be capable of HSS. Check your owner's manuals, or do a Google search.
http://www.scantips.com/lights/flashbasics2b.html
http://cpn.canon-europe.com/content/education/technical/getting_the_most_from_speedlites_IV.do
http://strobist.blogspot.com/2011/12/q-controlling-sun-when-using-flash.html
http://pixsylated.com/blog/dimming-the-sun-with-high-speed-sync-2/
http://www.rpphoto.com/howto/view.asp?articleID=1026
http://www.exposureguide.com/high-speed-sync-flash.htm
http://www.cameratechnica.com/2012/01/18/high-speed-photography-with-your-flash
How High Speed Sync Works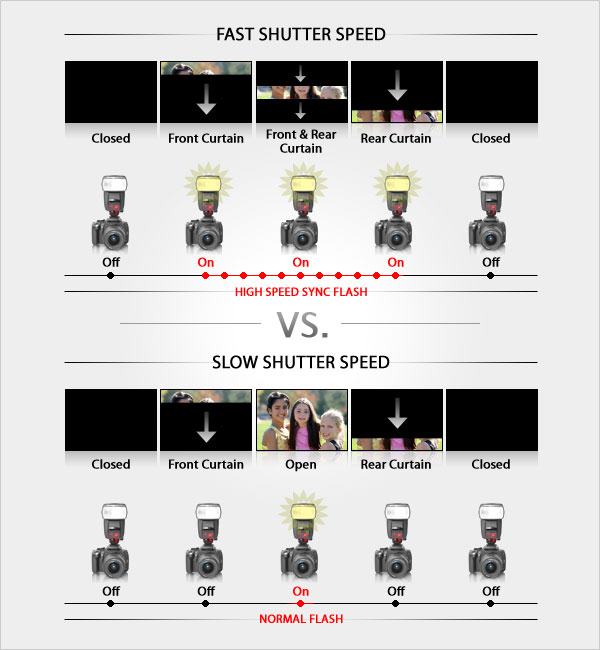 If you want to reply, then
register here
. Registration is free and your account is created instantly, so you can post right away.