PRICE REDUCED by $150 Flashpoint XPLOR 600 HSS TTL Monolight with extras for Nikon, Canon, Sony, Fuji - $500.00
Flashpoint XPLOR 600 HSS TTL Battery-Powered Monolight with Built-in R2 2.4GHz Radio Remote System - Bowens Mount (AD600 TTL), included is a Nikon Specific Flashpoint R2 remote sensor, other specific Flashpoint sensors are available for Sony, Fuji, and Canon. Also included is an extra battery pack. List price for the Flash Unit is $699.00, plus the Nikon remote $69.00, plus the extra battery pack $180.00. Total list price $ 948 + tax, absolutely like new, used for one interior shoot, clear protective cover still on LCD screen, batteries test as new, includes charger, protective flash head cover, standard 7" reflector and Flashpoint Case, total price to you $ 650. A savings of $298.00.

Details and pricing are from the Adorama.com where I purchased new. Would prefer local buyer in Western Washington, but will negotiate shipping costs, weight of package is 15 pounds. Please see my feedback on this site.

XPLOR600 is the one monolight for all your assignments, all your challenges, backed by industry leader, Flashpoint. The flash features many settings for the pro, like FEC, rapid stroboscopic flash, first or second curtain sync, LED Modeling, upgradable firmware and new camera system compatibility, clear LCD display, plus 11 advanced options features. The optional Remote 600 and 1200ws 8 foot extension heads transform the monolight into a boom friendly powerhouse. All the popular Bowens S mount light modifiers fit directly on the monolight or extension heads. A built-in locking umbrella channel accommodates up to 8mm umbrella shafts.
The integrated remarkable R2 Wireless Flash System is the advanced 2.4GHz radio remote that adds camera dedicated custom functions to your multi flash experience whether you are using Canon or Nikon for your photography. Easy to use buttons command a full range of functions like reliable channel triggering, group mode selectivity, HSS, with powerful signal strength and exceptional stability to your selected camera flash language. LED panels clearly display the status of all remote R2 compliant strobes so you always have control of group lighting mastery. R2 wireless communication gives speed of light response to on camera or off camera R2 family devices for a spectacular advantage on the shoot in any environment.

Features.
• 600Ws studio quality light without wires
• Guide Number 183 (ft) / 61 (m) ISO 100, with standard reflector
• Built-in 2.4G R2 Radio Remote System Compatible wireless system: Fully supports the Canon, Nikon and additional systems in Flashpoint R2 remote system.
• Integrated professional 11.1V/8700mAh lithium battery pack
• Lithium battery packs up to 450 full power flashes
• Dependable 0.01-2.5s recycling times
• Operates as a dedicated Slave unit in a wireless flash groups up to 300ft.
• Dot-matrix LCD panel with clear and concise display.
• 1/8000s High Speed Sync that can overpower the sun
• Lightweight and portable
• Designed for a wide range of Bowens S mount accessories
• Power range from full to 1/256 in 1/3 stop increments
• Stable color temperature at 5600½200K over the entire power range
• Focus-assist beam
• Thermostatic Fan Cooled body
• 10W LED Modeling Light (Adjustable)
• Optional 600 ws and 1200 ws Remote Extension Heads
• FEL (Flash Exposure Lock)
• R2 2.4G Groups - 5: A / B / C / D / E with 32 Channels
• Optical Groups - 3: A / B / C with 4 Channels
• Supports Flashpoint R1 Remote Manual Trigger System
• Canon & Nikon Optic Wireless Slave Modes
• S1 & S2 Optic Slave Modes
• Flash Duration - 1/220s to 1/10000s
• 11 Optional Advanced Functions (C.Fn)
• Auto Memory Function
• Firmware Upgrades through Micro USB Port
• USB Port Receiver Socket
• PC Sync 3.5mm Sync Port
The Flashpoint Battery Power Pack Unit for the XPLOR 600 Series Monolight is a massive internal and interchangeable high energy 11.1 volt Lithium Ion 8700mAh battery, capable of over 450 full power flash bursts on a single charge. The battery module snaps quickly and securely in place on the rear of the XPLOR. Recharging is accomplished directly to the DC port on the battery so you can stay in the shoot with a fresh unit while the exhausted power pack is charging. The power status level of the battery is clearly displayed on a series of color coded LED's, whether on or off the monolight. With several in your monolight's case, you can fire away without fear of losing the XPLOR advantage.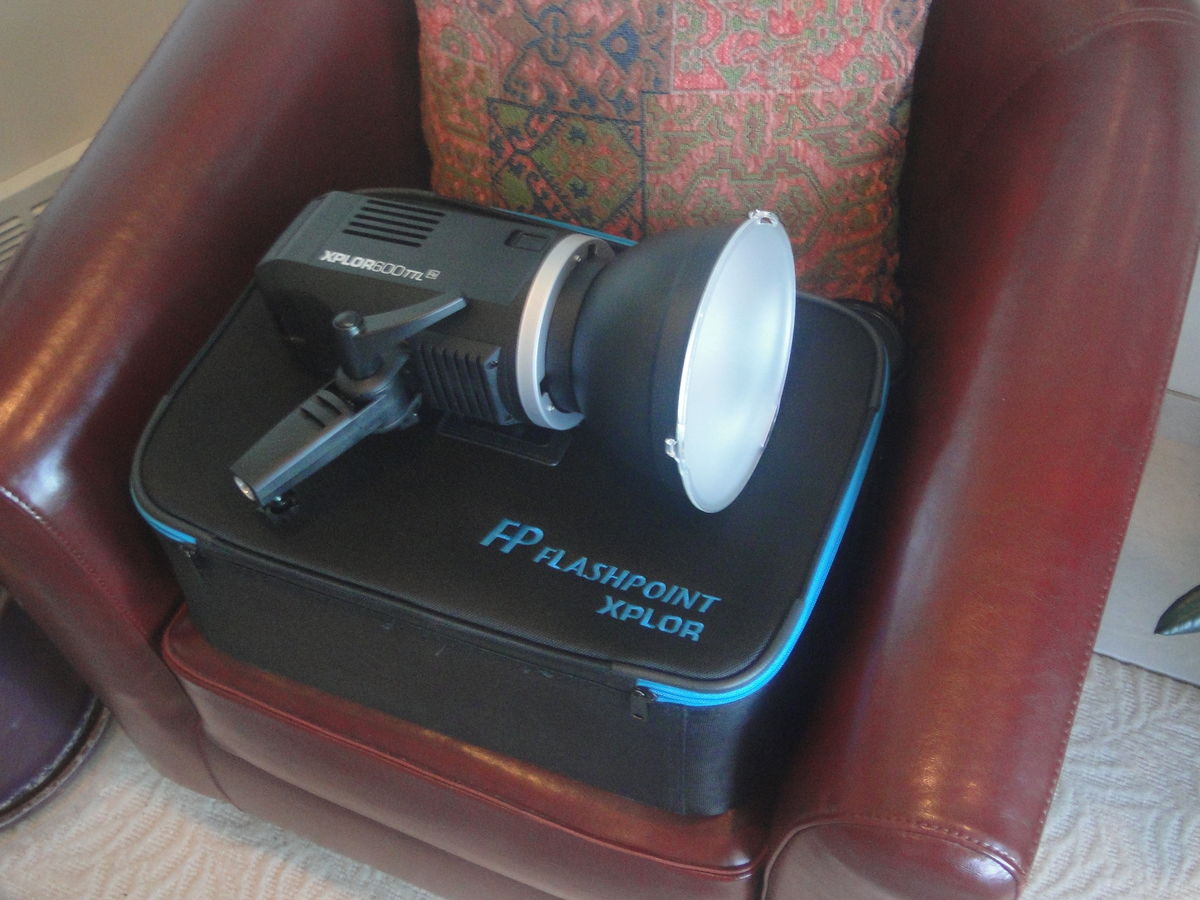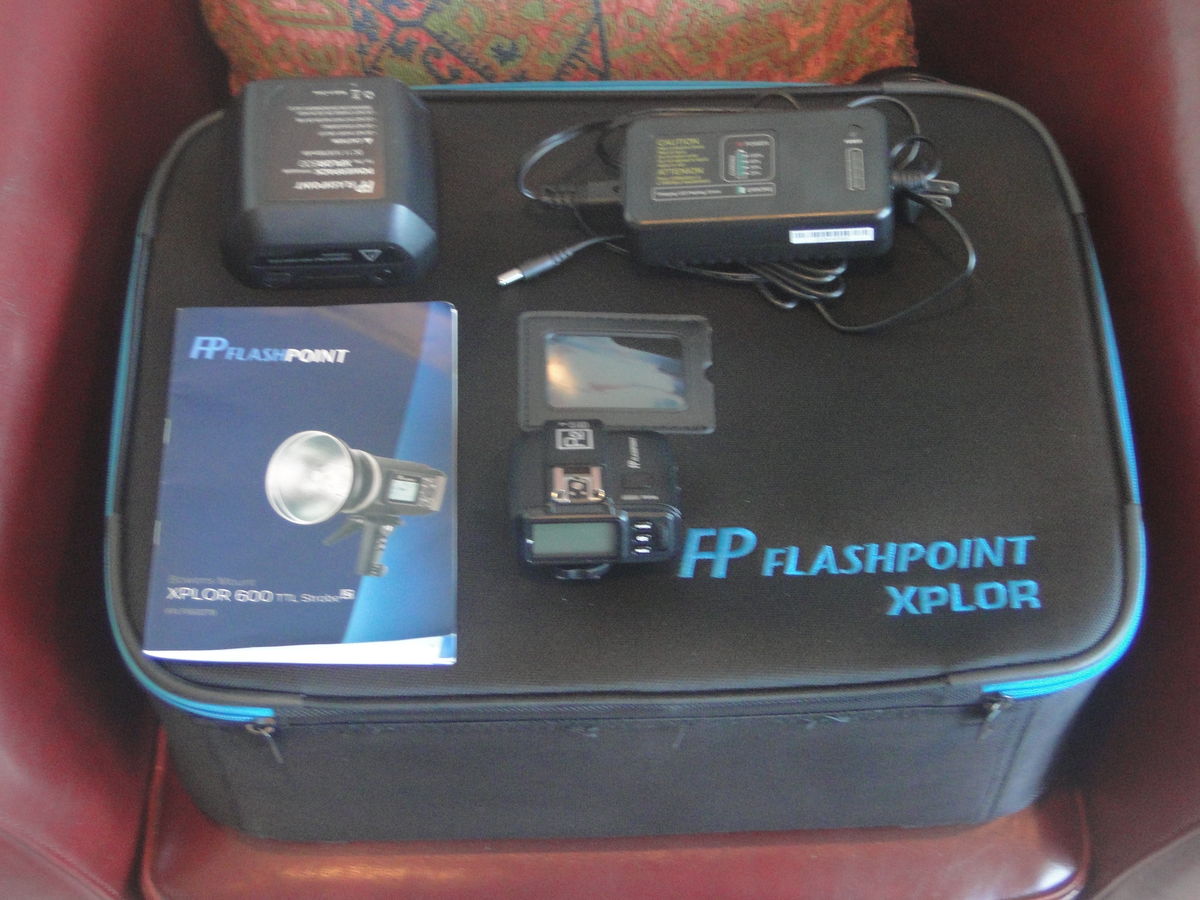 GoofyNewfie
Loc: Kansas City
Awesome flash. I've retired my tired Bowens monolights and gone to Godox/Flashpoint. A lot of times I'm not near an outlet anyway at events I shoot.
Good luck selling!
GoofyNewfie wrote:
Awesome flash. I've retired my tired Bowens monolights and gone to Godox/Flashpoint. A lot of times I'm not near an outlet anyway at events I shoot.
Good luck selling!
Thanks. I have 3 other smaller Flashpoints and just don't need this much firepower.
If you want to reply, then
register here
. Registration is free and your account is created instantly, so you can post right away.