picpiper
Loc: California
jazzplayer wrote:
... I still haven't figured out how to get RAW pics that aren't extremely noisy...

I have been using CHDK for several years on my S3, SD770 and SX30 and have recommended here on UHH a few times. I was delighted after waiting 10 months for a CHDK port to run on my Elph 310 1.00a Powershot. I use it almost exclusively for shooting RAW (.dng) singly and bracketed and was horrified to find a weeks worth of Yosemite .dng photos peppered with colored noise - see pic below. (DNG (digital negative) is an "open source" RAW format developed by Adobe.)
THE FIX:
If you are getting such colored noise in your CHDK .dngs go into the CHDK menu to RAW settings, change the DNG version from 1.3 to 1.1 and create another badpixel.bin file. (
http://chdk.wikia.com/wiki/Badpixel_removal
)
THE DETAILS:
CHDK versions prior to 1.2 used DNG version 1.1 and badpixel.bin to eliminate stuck and dead pixels from the .dng photo. Badpixel.bin is just a map of the coordinates of every bad pixel that CHDK "corrects" when creating a DNG version 1.1 .dng file. Adobe updated DNG to 1.3, eliminated the use of badpixel.bin and moved the bad pixel coordinate information INTO the .dng file through the use of what they call "opcodes". CHDK puts those bad pixel opcodes into 1.3 .dngs. The "gotcha" here is that CHDK defaults to DNG version 1.3.
This is all well and good and, from what I've read, Adobe products (Photoshop, Lightroom, etc.) do a better job of "hiding" the bad pixels in 1.3 version .dngs than CHDK does when mapping badpixel.bin into a 1.1 version .dng.
However, THE PROBLEM IS THAT ONLY ADOBE PRODUCTS
understand the 1.3 version bad pixel opcodes. If you use Adobe only products in your workflow you will never see the "colored snow" peppering your photos. If you look at a DNG version 1.3 .dng photo with any other viewer/editor ( Irfanview, Photomatix, Picasa, etc. ) you will see the colored sparkles. (AND it will be very frustrating until you understand what's going on).
If you want to wallow in any more details read this message:
http://chdk.setepontos.com/index.php?topic=8830.msg92275#msg92275
and do some searches there.
DNG version 1.3 .dng file viewed in Picasa 3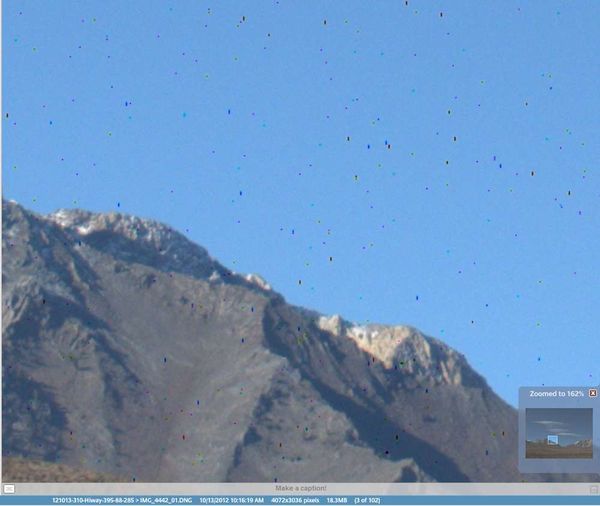 jazzplayer
Thanks for the good info! You have probably just saved me a good bit of frustration, and for sure have saved me some considerable research time.
Well done, & good explanation! Checking my versions now...
If you want to reply, then
register here
. Registration is free and your account is created instantly, so you can post right away.