cbtsam
Loc: Monkton, MD
I do a lot of work with focus stacks from my D850 processed in HeliconFocus. Frequently - indeed, almost every time - a particular kind of artifact appears in the processed image, a series of dots in a line that are generally brighter than the surrounding parts of the image.

In the attached example - essentially SOOC - there are two green wiggly lines near the left and right edges of the frame. If you look very closely, you will see that the dots that comprise the lines continue from the background into the yellow stamens, where they're a lot more difficult to get rid of than those against the relatively homogeneous background.

I have two questions: 1) where do they come from, and 2) what can I do to avoid them?

It has been suggested that activating long exposure noise reduction would be very useful, because they may result from hot pixels. I'm on a tripod for these shots, so I could do that, but it will be a challenge with my lights to get the exposure below 1 second without closing the aperture further than I'd like. I'm routinely shooting with a 105mm Nikkor Micro VR lens at f/8.0, ISO 80, and the shutter speed is typically no slower than 1/10 sec. However, if reducing the exposure time and turning on slow shutter noise reduction will reduce or eliminate these artifacts, I'll put a blanket over the lights if I have to!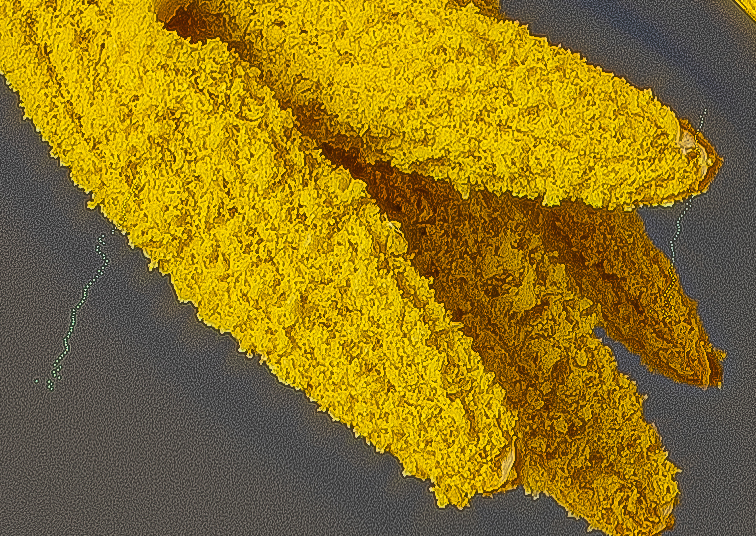 R.G.
Loc: Scotland
I would be very surprised if they were anything other than software related. Does your stacker have anti-ghosting? If it does, try it with less or none at all.

You say the artefacts that are against the stamens are harder to get rid of. Try cloning them out in bits instead of all at once. That will make it easier for the clone tool to find appropriate patches that will blend in. The good news is that the artefacts are harder to see against the stamens (or any highly detailed background) and the same will be true of any clone work.
R.G.
Loc: Scotland
You could try having a look at
THIS.
As they suggest, try different settings, especially the smoothing.

sippyjug104
Loc: Missouri
There is seldom a day go by that I don't shoot a focus stacking session and when I come across "worm tracks" (faint grey wiggly lines) it is more often a speck of dust on my sensor. When I find a bright "scratch" on my image, it comes from a hot pixel on the sensor. Yes, I encounter them both quite often.

Halos are more troublesome and they are attributed to frames that "see" part of the subject and then as the camera advances in focus or moves forward, the items it saw are no longer there, they are now behind the field of view. I equate that to walking in the woods where I see a tree close to me and then as I continue to walk it is now behind me and out of the current field of view. Now, when I would stack those images the tree that was there now appears to be ghosted and even transparent at times where I can see things in the distance through it, much like the old days of double exposure.

That's where editing the stack of images frame by frame to correct those anomalies is needed. The camera's sensor only senses rays of light and it has no intelligence and each advancement of the camera's focus brings new points of light to the sensor.
If you want to reply, then
register here
. Registration is free and your account is created instantly, so you can post right away.