I am looking for one of these tools. If you have one let me know.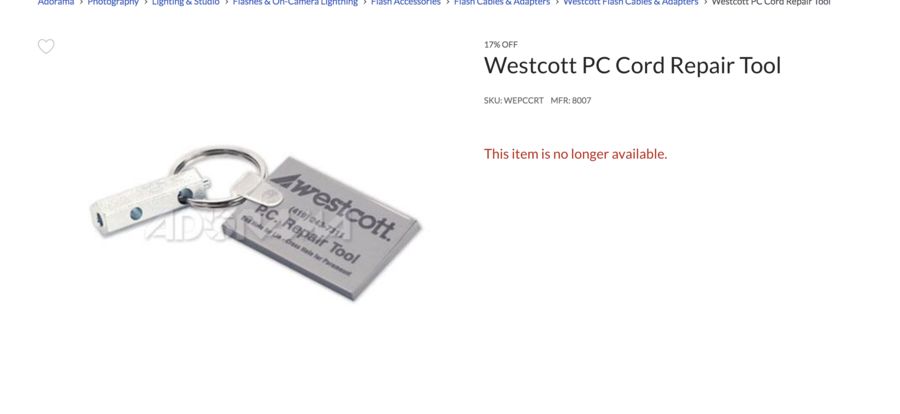 dpullum
Loc: Tampa Florida
At times there are alternate tools. What does this tool do specifically... what PC cord types does it repair.

ASK & ANSWERED?
"Conditioning tool for the tip of PC sync cords. Re-centers the central pin on a PC sync cord. "
PC sync cord deals with camera flashes??? "PC Male Pin to Hot Shoe Sync Cord" was one PC Sync Cord I saw. Live and learn. [is this right??]

Martys
Loc: Lubec, Maine
During the years I photographed weddings, it was vital that my PC sync cords stayed secure and tightly affixed from my strobe to the camera with such a cord.
I made my own conditioning tool that was always in my pocket every wedding I shot.

What I did was cut a 1-1/2 inch X 1-1/2 inch piece of 1/8th inch thick steel plate and drill 6 or 8 so holes thru the plate,...one or two holes were the exact PC connector diameter or a smidge larger,....all the other holes were fractionally smaller than the diameter of a new PC sync connector,.....whenever any of my cords connectors became the slightest bit lose,...I simply inserted it into one of the proper drilled holes whose diameter tightened up the connection as required with a quick gentle twist.

This device worked like a charm for many, many years.
Naturally all surfaces and corners were of the steel were clean smooth of burs and sharp corners.
If you want to reply, then
register here
. Registration is free and your account is created instantly, so you can post right away.