I am assuming that the folks who subscribe to this part of the UHH forum dedicated to video have heard of Scott Eggleston, better known as the Frugal Filmmaker. He was the guy who got an idea for a "two-handed stabilizer rig" (as he called it in the July 2010 video he made about it).
https://www.youtube.com/watch?v=qZtlSVgG1h8&feature=emb_logo
I built my first one of these rigs about 4 years ago, following Scott's instructions as given in that original video. I'd always had a difficult time when hand-holding my bridge camera (Fuji S1), trying to produce a straight, smooth video; it never seemed to come out right, but when I saw him using that homemade rig I knew right away that it was well worth trying. Admittedly it wasn't very stylish (of course it wasn't meant to be) but one thing that was always something of a minor annoyance was the spring-loaded bolt that you mounted the camera on after first turning the rig on its side and then using a flat-tip screwdriver to secure it.
Over the years there've been a number of re-designs of the original by many different folks, and even the FigRig started showing up as a pvc-pipe construct (in an octogon) but all the versions of both that I saw had the camera still being mounted that same way: with a screwdriver. Heck, in some the
bolt
was fixed rigidly in place and the
camera
was screwed onto
it
; clumsy arrangement at best. I thought back to (and then watched) Scott Eggleston's original video. Right at the beginning of the video, on the very first rig (which didn't look anything like what he ultimately made and demonstrated) he had a small tripod head with a panning arm that the camera was mounted on,
almost certainly with a quick-release plate
.
Which leads to what I'm writing this post for (finally!). I did some minor surgery on my current Frugal Rig, one which has some modifications in the frame which I learned from watching a German video that was very well-illustrated. I'd also taken pains to size this one specifically for the Fuji S1, to allow me to reach the zoom button and to keep the opened LCD screen unobstructed.
I cut off the end of the pvc cap and pulled out the old bolt & spring, then substituted a slightly shorter bolt minus the spring back through the bottom of the Tee. It stuck up out of the Tee just far enough to enable me to permanently attach the base of the Tripod head/quick-release plate I'd found on Amazon; I had enough length to put a steel sandwiched to a rubber fender washer between the Tee and base plate. I mixed and applied some epoxy down in the inside bottom of the Tee and some more on the threads of the bolt going into the base plate, then tightened it gently but firmly and let the whole works cure for 24 hours.
Link to Plate I found:
https://www.amazon.com/gp/product/B07411HRF6/ref=ppx_yo_dt_b_asin_title_o03_s00?ie=UTF8&psc=1
I ended up with a good solid platform; the end of the bolt was flush with the inside of the base plate, ready to receive the quick-release plate as attached to the camera, which fit perfectly and was a breeze to install on the rig. You can see the results.
I've recently acquired a Lumix DSC-FZ1000, which does really good video, so I want to make a stabo-rig for it, too. While cutting the pieces I decided it would be nice to show an in-progress view in case anybody here wants to make one. I am doing the camera mount part with the same Konsait brand tripod head/quick-release plate as before, only with my own take on how to integrate it into the frame of the rig. Sorry for being so long-winded; it's been hard for me to get enthusiastic about much of anything for a long time now, but on this I'm feeling a lot better. Anyone who in fact would like to make one of these (I made my own version of the octagonal FigRig, too) is cordially invited to PM for any info you might want.
Fuji S1 Rig with QR plate removed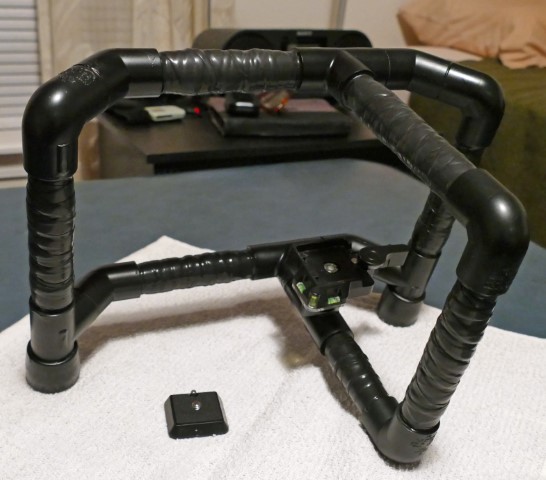 Fuji S1 attached to rig with QR plate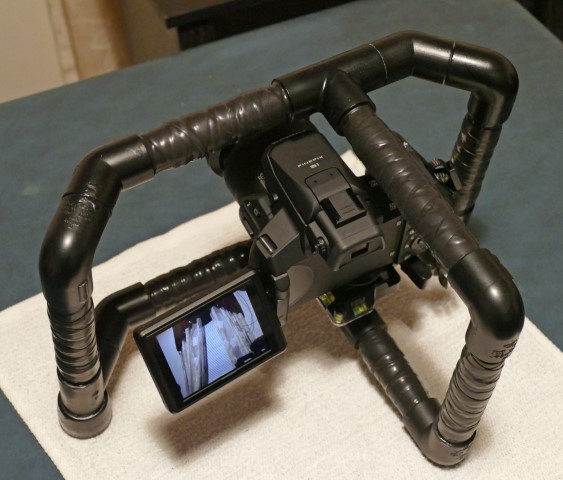 Stabo Rig for Lumix FZ1000 under construction; pieces cut to size and loosely put together. It will be identical to the Fuji Rig except for being an inch taller.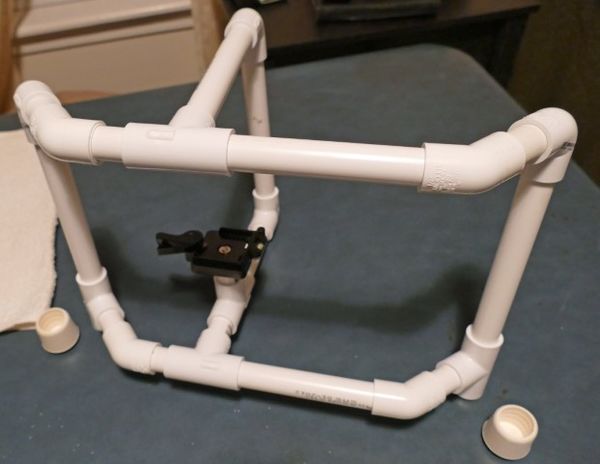 Closeup of the Lumix camera mount w/tripod head/QR. Shown upside down. I will use epoxy to fix internal components in place but will not install onto the stabo-rig frame until fully cured. Aftrewards, the QR plate will be the only removeable part.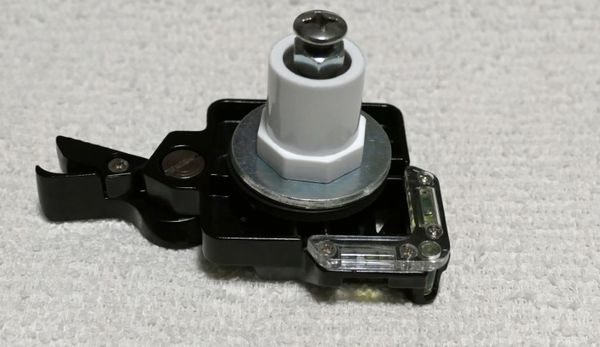 Closeup view of the Tripod Head/QR PLate used in all my Stabilizing Rigs (Fuji S1, Lumix FZ1000 and General-use FigRig