alamomike47
Loc: San Antonio, Texas
Still limited from back surgery 15 days ago. I took these on day 14 from back surgery. I sure someone like them. The fire escape! It is the Hotel Emma which is converted from the Pearl Brewery.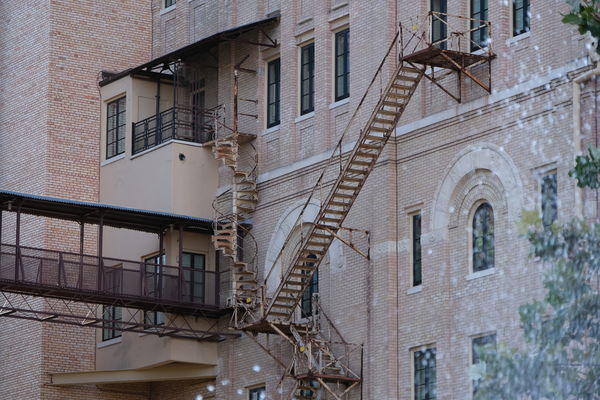 (
Download
)
Rab-Eye
Loc: Central Indiana
Glad you're feeling better!
Yes, Glad you're up to getting out shooting so soon after surgery, Mike

At first glance, the image didn't do much for me until I realized you made the image look like it was taken using the shift feature of a tilt shift lens. Notice the vertical lines of the building are vertical and not converging. Note how it looks like you are pointing the camera at the bottom of the stairs instead of at the middle of the image. Did you crop off part of the bottom of the image to create this effect? Or did perspective correction do it? Or some other method employed? You've got me curious about it.
alamomike47
Loc: San Antonio, Texas
Had to drop the bottom part because of small children playing. I did want just bit of the water spray from the fountain. I was focused on the old fire escape from the brewery turned into very expense Hotel Emma. I've taken this photo many times but this one I well please with. No tilt shift lens. I took about 5 pic to get this one I liked. Thanks so for your review. I just like this old fire escape
If you want to reply, then
register here
. Registration is free and your account is created instantly, so you can post right away.