This topic is locked to prevent further replies.

Nikonian72
Loc: Chico CA
This phenomenon is properly known as
Small Aperture Diffraction
, or circular aperture diffraction, or lens diffraction. This is a problem with digital photography through small apertures (usually noticeable at f/22). It is also a problem with all lasers. Associated terms: Airy's Disc, or Airy Disk, or circle of confusion.
This phenomenon is strictly related to the relative size of an aperture in a lens, having nothing to do with the camera's sensor or film
.
The following URLs contain diagrams, charts, and photo examples, which better explain and illustrate phenomenon:
http://www.cambridgeincolour.com/tutorials/diffraction-photography.htm
http://hyperphysics.phy-astr.gsu.edu/hbase/phyopt/cirapp.html
http://www.bobatkins.com/photography/technical/diffraction.html
http://www.luminous-landscape.com/tutorials/understanding-series/u-diffraction.shtml
http://en.wikipedia.org/wiki/Airy_disk
Because of this phenomenon, most serious macro-photographers routinely use apertures of f/11, or f/16, depending upon specific lens.
Note resolution drop-off on this chart of a world-class macro lens.
MTF (Resolution) for Nikkor AF 105mm 2.8 G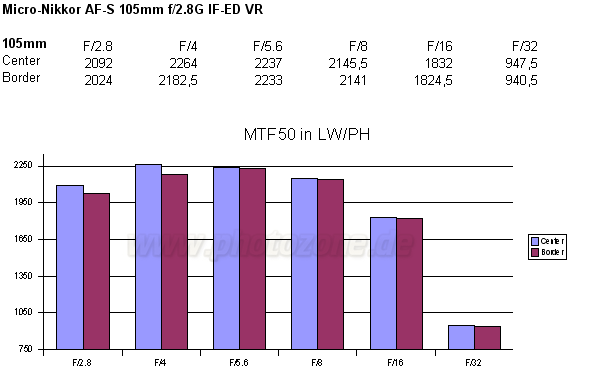 If you want to reply, then
register here
. Registration is free and your account is created instantly, so you can post right away.