tommy2
Loc: Fort Worth, Texas
Bypass Surgery on a live sanitary sewer trunk line. The left most green box contains a pump drawing the raw sewage from the line ahead of the surgical incision to move it with the help of an in-line booster pump (green box near center) further along (about a city block) to another access port in the original line. Dr. Michael DeBakey would be proud of the several 24 hour stormy day procedure! Congratulations to the work crew for not allowing any polluting material to spill into the beautiful Trinity River!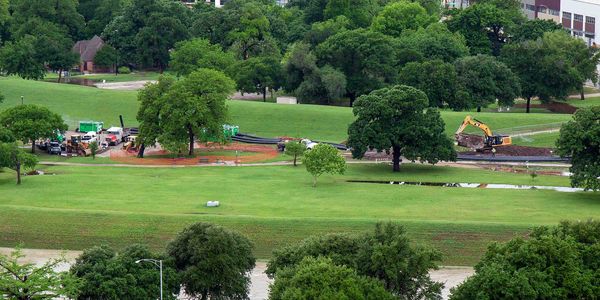 MrBob
Loc: lookout Mtn. NE Alabama
tommy2 wrote:
I can relate to the scene completely Tommy... retired from Public Utilities after 30 years and have been there and done that many times. I can recall putting a full seal clamp on a force main that could not be shut down which was also on a golf course. Yellow raincoats on and a torrent of YELLOW RAIN while making repairs. After a while you kind of get used to the Brown Trout.... Public service workers do not always get the credit they deserve. Great explanation of the work being done.

tommy2
Loc: Fort Worth, Texas
MrBob wrote:
...Public service workers do not always get the credit they deserve...
Oh My Goodness! Obviously written by a REAL participant in the absolutely necessary job in the Public Service Worker world! You deserve a resounding Thank You from the everyday citizen right along with all military combat veterans!
If you want to reply, then
register here
. Registration is free and your account is created instantly, so you can post right away.