Mary P
Does anyone know how to make the signature into a brush in PS?

liv2paddle
Loc: Wall, NJ
I have the instructions for you.I will scan and put up shortly.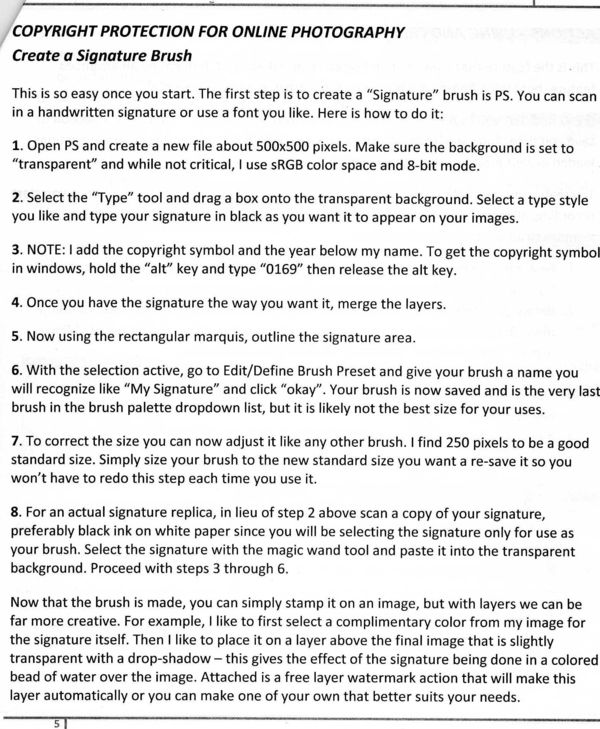 Jwilliams0469
Loc: Topeka, Ks.
Mary P wrote:
Does anyone know how to make the signature into a brush in PS?
Hi, I hope this helps but you can also find a helpful file on
www.youtube.com
just search for what your looking for.
This is how I do the signature brush in cs4 but it should be the same in cs5.
first open photoshop and create a white blank square or rectangle your choice, it really don't matter.
so after opening PS go to "file" menu and click on "New" then hit ok or re-size it if you want to.
Select your "Text" tool and choose your "style" of text, size and so on.
Type your signature and then click the check mark on the tool bar above.
once you have done this, it simply means you are finished creating your signature and wish to save it as a brush.
Now that you are ready go to "Edit" and click "Define brush preset". Now a box will appear with "sample brush" text inside and you should rename it to your signature line or something you will remember it by. Then click "ok".
now go look in your brushes and you will find it normally at the bottom of the list. good luck!
If you want to reply, then
register here
. Registration is free and your account is created instantly, so you can post right away.